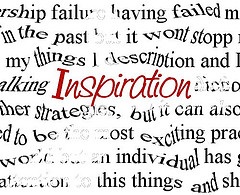 It's easy to get discouraged. Especially when there's a lot of negativity in the air. And nothing's going your way.
Sometimes you need a burst of inspiration to get re-energized. If that's you, these 25 inspiring quotes will not disappoint.
They could motivate you to new heights. Or even propel you in a better direction. Who knows?
As you read each and every word of this blog post, you'll find the secrets to success. So you can keep moving.
Read closely, because within each of these quotes is a nugget of wisdom. While some of these words may have been said or written hundreds of years ago, they still ring true today. They're timeless (just like Michael Jackson's Thriller album. :D).
"We are what we repeatedly do. Excellence, then, is not an act, but a habit." – Aristotle
"If I have the belief that I can do it, I shall surely acquire the capacity to do it even if I may not have it at the beginning." – Gandhi
"Faith is taking the first step even when you don't see the whole staircase." – Martin Luther King, Jr.
"Optimism is the faith that leads to achievement. Nothing can be done without hope and confidence." – Helen Keller
"In the middle of difficulty lies opportunity." – Albert Einstein
"Winners never quit and quitters never win." – Vince Lombardi
"What lies behind us and what lies before us are tiny matters compared to what lies within us." – Ralph Waldo Emerson
"Never, never, never give up."  – Winston Churchill
"The big secret in life is that there is no big secret. Whatever your goal, you can get there if you're willing to work."- Oprah Winfrey
"Don't limit yourself. Many people limit themselves to what they think they can do. You can go as far as your mind lets you. What you believe, remember, you can achieve. " – Mary Kay Ash
"Now faith is the substance of things hoped for, the evidence of things not seen." – Hebrews 11:1
 "Most of the important things in the world have been accomplished by people who have kept on trying when there seemed to be no hope at all." – Dale Carnegie
"If you don't like something, change it; if you can't change it, change the way you think about it. " – Mary Engelbreit
"You are the person who has to decide. Whether you'll do it or toss it aside; You are the person who makes up your mind. Whether you'll lead or will linger behind. Whether you'll try for the goal that's afar. Or just be contented to stay where you are." – Edgar A. Guest
"Failure is a word that I simply don't accept." – John H. Johnson
"I didn't get there by wishing for it or hoping for it, but by working for it." – Estee Lauder
"Aim for the moon. If you miss it, you may hit a star." – W. Clement Stone
"You might remember that nothing can bring you success but yourself." – Napoleon Hill
"The greatest discovery of my generation is that a human being can alter his life by altering his attitudes." – William James
"As a man thinks in his heart, so is he." – Proverbs 23:7
"Our greatest glory is not in never failing, but in rising up every time we fail." – Ralph Waldo Emerson
"Success seems to be connected with action. Successful people keep moving. They make mistakes but don't quit."
- Conrad Hilton
"We would accomplish many more things if we did not think of them as impossible." – C. Malsherebes
"It is never too late to be what you might have been." – George Eliot
"Start where you are, with what you have. Make something of it. Never be satisfied." – George Washington Carver
Do you have any inspiring quotes you'd like to add? What do you think of these?
Photo: photosteve101