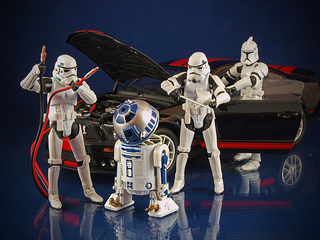 Do you ever cringe when your car's check engine light comes on? I know the feeling, these days regular car maintenance could cost you hundreds of dollars. While a major car repair might run you in the thousands. Ouch!
Earlier this month my car's maintenance light came on. It's six years old now. And this was a new maintenance code. I could only imagine how much $$$ it was going to cost me.
Every time I cranked up the car, it was in bright lights staring me in the face. As if it were saying, what are you waiting for? Stop ignoring me, something is wrong.
After a few days, I decided to schedule an appointment. I called several car dealerships to get quotes. They told me: $330, $340 and $450.
Prices like that for scheduled maintenance just make you want to scream! By shopping around I managed to save over $100 in less than 10 minutes.
Whenever I get service quotes, I just scribble them down on a piece of paper along with the details. Paying attention to the service maintenance details helps you save money when you've recently had something they are recommending.
For example, the last time I had to get my car serviced it included a tire rotation. I told the tech I got one a few weeks earlier, so I skipped it.
This time around I needed everything on the list!
The good news is that I still managed to cut my repair cost down an extra 15% (that's $51) over the phone. In this post I'll show you exactly how I did it. Read on.
Here are 4 Easy Ways to Save Money on Your Car Repairs:
1. Car Service Coupons
You've probably seen them in the mail, on the back of receipts and on the Internet. I always save service coupons because I never know when that engine light is coming on. J
Look on the Web – It's also a good idea to check out your preferred auto repair shop's website. I have found some really great service coupons on my dealer's website. Give it a try – it's easy to do and can really save you some cash.
2. Use Wholesale Club Membership Deals
Are you a wholesale club member (BJ's, Costco, Sam's)? Being one could save you money on your car purchase and service. Ask your wholesale club about any special auto benefits they give you.
Being a Costco member is actually how I saved an extra 15% off my car service. It was the best deal around. No coupon could touch that one. Savings like these are too good to pass up.
3.  Ask for a Discount or Negotiate a Lower Price
One of the best questions to ask anyone selling you something is: "Is this best you can do?" That simple question has helped me shave off money on many things. And your car repair is no different.
Be direct and ask for a discount.
Negotiating can drive your costs down lower also. Try using a competitor's price to get a better one. When I took my car in they found something else (Don't you it hate when that happens!). So they offered me the Costco discount, but I got them to give me another 10% off since they were already working on the car. That saved me a total of 25% off the new car repair (roughly $75 off).
4. Don't Wait Too Long to Fix it
Car repairs are not something to keep putting off. When you do it could cost you a lot more to get it fixed later. And given that you're reading this, I already know you're about saving more, not paying more. Right? J
Besides, delaying a repair too long could put your safety at risk. That's not worth it!
But you shouldn't rush to make a decision either (unless it's absolutely necessary).
One time I took my old car in for service and the dealer quoted me $1,300 to do the repair. I refused to pay that much to get it fixed.
When I got home, I investigated the issue online in hopes of finding a lower cost solution. I'll spare you the details, but in the end I got my car fixed for only $400.
That saved me about $900 and tons of frustration (priceless!). Thank goodness for online forums with mechanics and other customers throwing in their two cents!!!
In closing, I know car maintenance can be a real drag. But when you maintain your car well—it usually lasts longer and keeps more money in your pocket.
Happy Saving to You!! 😀

Photo by Jim Bauer