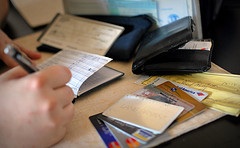 After the subprime mortgage debacle, lenders have been reluctant to approve loans and extend credit. The days of loose lending practices (e.g. stated income mortgages) have been replaced with stricter standards to mitigate risk. Lenders have turned to credit bureaus to gather information beyond your normal credit score to determine your credit worthiness.
Credit bureaus are taking their credit reporting practices to another level – to unveil more about your financial picture. Furthermore, they are using more information than what is typically reported on your credit report, such as your bank history, utilities and rental payments.
The Wall Street Journal's article, New Ways Bankers Are Spying on You is a great read about the new credit reporting practices.
Here are a few highlights of The New Credit Reporting Practices:
Rental/Utility Payments – Checking your payment history on rental properties and utilities.
Home Values – Lenders may consider your home value in comparison to the outstanding principal amount owed. Please read the Wall Street Journal article above for more information on this.
Bank Behavior – A bank behavior score is calculated based on your bank account activity (deposits, withdrawals and balance history).
Income Estimation – Income estimates are generated using information from your credit report like mortgage, credit lines and account history.
Collection – Debt collection companies may receive reports alerting them when your financial outlook improves. These reports prompt them to collect on debts owed.
This additional insight into your financial activity helps lenders decide whether to approve you for credit cards, loans and other financial products. It's also useful to prescreen customers for special credit offers (e.g. credit cards).
What are your thoughts on the new credit reporting practices? Please share them in the comments.
Photo – meddygarnet