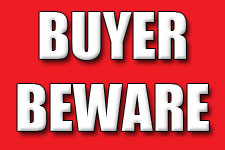 You can have it now – furniture, tires, appliances and electronics. Buy it today and pay no interest for 48 months. It's the best no-interest loan out there. You'd be crazy not to take it.
We've all seen 'same as cash' deals and no interest offers. They come in all sizes. You can get 90 days same as cash. Better yet, how about paying no interest for 1 year, 2 years or more? Come on down…
These offers might sound like music to your ears. Especially when you want it now. After all, you'll have more than enough time to pay it off.
Let's hope so, because when you don't it could cost you big time. And if you're not careful you could find yourself paying extra fees that have nothing to do with interest.
As with any other financial product, I recommend you take the time to fully understand the credit terms upfront. It's important to know how it works.
To avoid any surprises and the hassle of trying to resolve issues later. Here are a few questions to consider before you take a 'same as cash' deal:
Do you have to make monthly payments? How are they calculated?
How long do you have to pay without any interest?
What happens if you miss a payment or don't pay it off in time?
Are there any other fees involved with the credit offer?
This is a great way to start the conversation, but I'd take the extra step and read all of the fine print. Or else you could find yourself signing up for a service that you didn't even want or need that costs you extra every month.
Personally, I've taken advantage of a few "same as cash" deals. The first one was about 12 years ago when I needed to buy a new set of tires. They were offering me 90 days same as cash plus a $50 cash card. So I took it. I got my free cash card and paid as agreed. And I came out on top with $50 bucks and didn't pay a dime in interest/fees.
Probably one of the most popular 'same as cash' deals is on furniture.
For example, I found an online offer for "No Interest Until Jan 2017." This is what I found out when I called them:
Offer applies to purchases of $2,000 and more
The monthly payments are spread out evenly across the term of the agreement. In other words, you'd take the total dollar amount and divide it by the number of months (until the promotion ends).
If you miss a payment, interest kicks in automatically. The interest rate is 23.99% and it rolls back to the entire balance from the very beginning.
This means you can buy a house full of furniture without paying any interest until 2017. But buyer beware:
The $2,000 minimum may entice you to spend more than you intended to on furniture.
Keep in mind that even though there's no interest until 2017, you must make your monthly payments on-time.
If you miss one payment the interest is retroactive back to day 1. In other words, say you were only two payments away from paying off your balance and missed a payment. Even though you owe a $154 balance. You'd have to pay the full interest back to when your balance was $3,000 instead of $154. Ouch!!!
And the interest is not at a competitive rate of 15%. You'll pay a high 23.99% interest rate.
As you can see, if you don't pay as agreed you could end up paying a lot more than you thought.
These days I pay cash. I don't like to open up unnecessary accounts. Besides my furniture store gives me a 20% discount for paying cash. 🙂
What do you think about 'same as cash' deals?