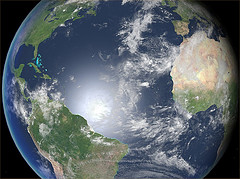 Today we celebrate 40 years of Earth Day. Earth Day creates environmental awareness and promotes conservation efforts. Taking the time to learn how to be green can save you green everyday.
Be

Green

and Save

Green

Tips
This morning on the drive to school, I asked my daughters what today was. My six year old responded, "April 22nd, its Earth Day." She went further to explain, "Today we will turn off the lights at school to save energy."
I smiled at the level of excitement she had about today. Especially, since she had grasped one of the concepts behind the meaning of Earth Day. Turning off lights and using natural light is one way to be green and save green.
Here are a few other tips to help you be green and save green:
Reduce, Recycle, Reuse – Recycling is important and it can save you money when you live in a community where you pay per trash bag. Choosing products that are reusable help you save money and reduce waste. For example, using washable houseware (e.g. dinnerware, cutlery, containers) for food and drinks.
Turn off Lights and TVs – Whenever you leave a room, be sure to turn off the lights — this can really save you money on your electric bill. As for that TV, is yours one that watches you while you sleep? If so, try using the sleep mode.
Unplug Appliances and Chargers – Taking the time to unplug these items helps you save energy and reduce energy costs.
Wash Clothes in Cold Water – My aunt shared this tip with me awhile back and I found it to be a good one.
Energy Efficient Bulbs and Appliances – Replace your old light bulbs with ENERGY STAR® compact fluorescent light bulbs (CFLs). These use 75% less energy and lasts up to ten times longer. When you need to purchase new appliances, look for the ENERGY STAR® label. [Read more…]