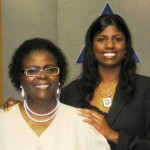 It's been awhile since my last blog post. Last week, my family and I traveled to Jacksonville, FL to celebrate my mother's (Susan) retirement. She finally retired after nearly 43 years working for the US Navy, as a civil service employee, in the information technology department.
We had a great time celebrating this important milestone with family and friends. After all, it's rare to see someone retire from the same employer after more than 40 years of service.
As I reflected on her significant accomplishment, I came to realize that my mother taught me what I deem to be — the 7 Pillars of Success. As a parent, I have come to learn that we are our children's first teachers. You know what they say "actions speak louder than words." Well, I am happy to say that my mother was a wonderful teacher.
From my mother, I learned the 7 Pillars for Success:
Strong Work Ethic. My mother taught me to always do my best, no matter how small the task. [Read more…]