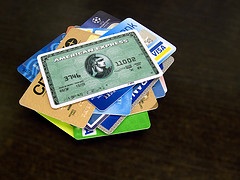 Money Smart Week (MSW) is here. I enjoyed being a speaker at MSW events this past weekend. The audience participation was incredible. Looking back, there's one question someone asked that stands out to me the most. A college freshman asked, "Are credit cards bad?"
While this wasn't the first time I have been asked this question, it stood out because she was in school. A young person trying to establish credit, but hesitant to apply for a credit card given all the bad things she'd heard about them.
I remember when I was in college applying for my first credit card. Back then I didn't sit in any credit seminar or even take the time to research the different types of credit cards. The only thing I really cared about was that there was no annual fee. So it was great to see her taking the right steps from the start.
I told her that credit cards are not bad. A credit card is simply a tool that you can use to handle your financial transactions. They're only bad if you don't use them responsibly.
After all, credit is borrowed money. That's why you're charged interest when you don't pay in full. As Benjamin Franklin once said, "Remember that credit is money."
A credit card is a great way to build your credit history. But you have to use credit wisely. Or else you could find yourself in high interest credit card debt.
If you want to avoid getting yourself into costly credit card debt, you have to practice discipline and self-control. The best ways to do this is to buy what you can afford to payoff every month and control your spending. When you use credit responsibly, you can truly enjoy credit card benefits (cash back, extra warranty, insurance) without the financial headaches.
If you're in the market for a credit card [Read more…]