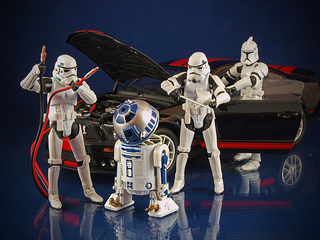 Do you ever cringe when your car's check engine light comes on? I know the feeling, these days regular car maintenance could cost you hundreds of dollars. While a major car repair might run you in the thousands. Ouch!
Earlier this month my car's maintenance light came on. It's six years old now. And this was a new maintenance code. I could only imagine how much $$$ it was going to cost me.
Every time I cranked up the car, it was in bright lights staring me in the face. As if it were saying, what are you waiting for? Stop ignoring me, something is wrong.
After a few days, I decided to schedule an appointment. I called several car dealerships to get quotes. They told me: $330, $340 and $450.
Prices like that for scheduled maintenance just make you want to scream! By shopping around I managed to save over $100 in less than 10 minutes.
Whenever I get service quotes, I just scribble them down on a piece of paper along with the details. Paying attention to the service maintenance details helps you save money when you've recently had something they are recommending.
For example, the last time I had to get my car serviced it included a tire rotation. I told the tech I got one a few weeks earlier, so I skipped it.
This time around I needed everything on the list!
The good news is that I still managed to cut my repair cost down an extra 15% (that's $51) over the phone. In this post I'll show you exactly how I did it. Read on.
Here are 4 Easy Ways to Save Money on Your Car Repairs: (more…)