This morning I heard on the news that IL gas prices are the highest ever for this time of year. That's not surprising if you've been to the pump lately. Gas is averaging about $3.69 per gallon/regular. But what really got my attention was to hear Metra fares are increasing up to 30%, starting on Wednesday, February 1st.
Up to 30% – that's some increase!
Here's the fare increases Metra riders can expect to pay starting on Wednesday:
Starting on Feb. 1, 2012, one-way tickets will increase an average of 15.7 percent across all fare zones, while 10-ride tickets will go up an average of 30 percent and monthly passes will increase an average of 29.4 percent. Reduced fare one-way tickets will increase an average of 10.3 percent, reduced fare 10-ride tickets will increase an average of 18.9 percent and reduced fare monthly passes will go up an average of 10.8 percent. Taken together, the overall average increase is 25.1 percent.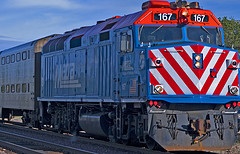 One more thing, if you were thinking of stockpiling those 10-ride tickets at today's lower rate you can forget about it. I bought one of these a few weeks ago and there's a big RED stamp that only makes it valid through February 29, 2012.
In addition, Metra is immediately changing the expiration dates of one-way and 10-ride tickets in an effort to deter the stockpiling of those tickets before the fare increase begins next year. One-way and 10-ride tickets purchased from Nov. 12, 2011, though January 31, 2012, will be valid only through Feb. 29, 2012. There is no price increase for those tickets during this temporary period. Unused tickets will be reimbursed at the refund policy in effect at the time of purchase.
For more information on Metra fare increases and policy changes starting Feb. 1 click here.
Photo: Ron Cogswell