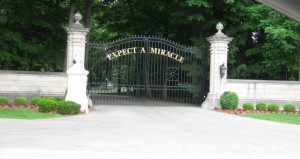 I'd like to share some inspiring words that I came across this past weekend when my husband and I were in Lake Geneva, WI. On Sunday afternoon, we decided to drive through the millionaire mansions and a black iron gate caught my attention—it had the words EXPECT A MIRACLE painted in gold. Just passing by it and seeing those simple and powerful words was uplifting. I actually had to do a double take.
So you know I had to take a picture of it. And to think the person who owned that mansion must have expected a miracle and it actually came true. Now that is something that is really food for thought.
It didn't end there either, because we happened to notice some people walking on a path in the back of the properties. We decided to park the car and take a stroll down the path ourselves. Sure enough it was in back of the million dollar estates.
After walking a little while down the path I noticed an area that stood out from the rest. It had a black and white fence with nice brick pavers. The landscaping was welcoming and I started to hear music in the background like Enya's Only Time. Then, as I got closer the words on the fence stopped me in my tracks. The fence had beautifully painted roses, inspiring quotes and words of wisdom.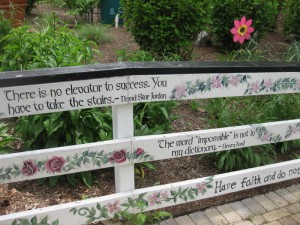 After reading a few of them, I said to my husband "this has to be the house with the Expect a Miracle gate." He told me it was, because he saw a bell that said to ring the bell and expect your miracle. Now you know I started wondering who was the owner of this magnificent home. Who would create something like this for people walking on the path?
After I shared my thoughts on the book at the podium (yes, it had a podium where you could write your thoughts), I soon discovered the path was called TheMiraclePath. I later learned the mansion owner (Carolyn Gable) had intentionally created TheMiraclePath to welcome visitors. She has a very inspiring rags to riches story. To find out about her remarkable story visit CarolynGable.com or TheMiraclePath.com.
Below is an excerpt from her bio:
Year after year I would walk the lake path and always said a silent prayer to God how someday I wanted to own a home on the lake.  I would travel on the path looking at the homes and wondered what these people did to enjoy such a wonderful life.  Was it a family fortune or just plain hard work that created these gorgeous estates?  Many times I would try to chat with the owners of these homes, yet I always felt like I was intruding.  It probably was my own insecurities at the time. However, it made such an indelible mark on my soul that I would add to my prayer "And if you ever do bless me with a home on the lake I will make it so inviting for all!

Well, some 20 years later and the recipient of more miracles than I could ever count, I was blessed by God's Grace and was able to purchase my home – right on the lake!  I held true to my promise and immediately put 'Expect a Miracle' on the front gate. Almost immediately, I began to receive cards and letters from people telling me how those words changed their life – it was the inspiration and hope they needed to persevere.
I hope this post inspires you to Expect Your Miracle. It can happen!
"You can never quit. Winners never quit, and quitters never win." – Ted Turner
"Sometimes you just have to take the leap and build your wings on the way down." – Kobi Yamada