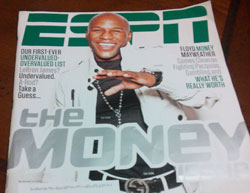 Floyd Mayweather is one of the most business savvy athletes in the world of sports. Forbes listed Mayweather as the "World's Highest Paid Athlete" earning $85 million. That's why they call him "Money."
According to ESPN writer Tim Keown's feature article, Mr. Money has $123 million dollars stashed away in a single bank account. You read that right. That many digits in one account.
In his article Keown describes what he saw on Mayweather's bank slip:
"I look down one more time to make sure I got it right. And yes, it's right there, 11 numbers long.

There is more than $123 million in Floyd Mayweather Jr.'s bank account.

He nods, folds the slip and says, "One account, baby."
That's a lot of cash to have in one bank account. But at least he's not keeping it under his mattress. 😀
While there's no mention of what type of account Mayweather has, I sure hope it's protected.
The Federal Deposit Insurance Corporation insures accounts up to $250,000. However, some financial institutions have creative ways to insure millions of dollars despite these limitations.