Tomorrow is the first day of spring. But who would have thought we'd be paying $3.842 per gallon (AAA motorist reports) in winter? After all, winter is the time of year we usually pay less for gas. With gas prices so high now, what can we expect to pay this summer?
Some people are predicting $6 a gallon gas this summer. That means it could cost you $111 to fill up an 18.5 gallons gas tank. You could be spending close to $500 a month if you had to fill up every week. Ouch! I'm hoping they are as wrong about that prediction as they were about this being a brutal winter in the Midwest.
My question for you: Is the price of gas changing your personal spending?
According to a recent gallup poll – "Americans on average say gas prices of $5.30 to $5.35 per gallon are the tipping point that would make them cut back on spending in other areas or make significant changes in the way they live their lives."
I can tell you gas does not have to reach over $5 for me to change my habits. When it hit more than $3.50 a gallon, I'd already started looking for ways to spend less on gas. Like bundling up trips, using public transit and keeping my car well maintained.
In Illinois, we have not hit over $5 a gallon just yet. This morning I took a picture of a local gas station's sign. I know it's not the best picture, but at least you can see the price. 😀 It's $4.49 per gallon for regular gas. Don't let the big $4.19 price fool you. That's only the price when you get a car wash. So you have to be careful with the gas sign trickery in these parts.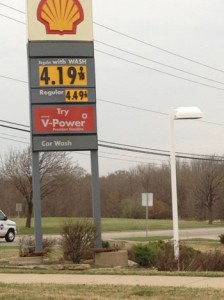 I'd love to hear from you on this topic! What's the magic number for gas that will force you to make some major changes in your spending?