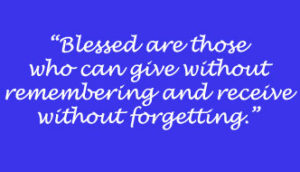 Many years ago I visited the King Memorial in Atlanta, GA. It wasn't my first time, but something stood out to me like never before. After watching a short movie, a black screen flashed up with these words blazing in white:
"Life's most persistent and urgent question is, What are you doing for others?"
– Martin Luther King, Jr.
That quote has made an imprint on my life forever.
It spoke volumes to me. Perhaps it was because of the significance of Martin Luther King Jr. life journey. After all, he fought for equality and made the ultimate sacrifice of giving his life for a cause greater than his own.
Those words made me reflect on my own life. And while I've always had an innate ability and desire to help others, I realized it really isn't about me—it's all about OTHERS.
The truth is you enrich your own life when you help others. Let me explain.
As Winston Churchill once said, "We make a living by what we get, but we make a life by what we give."
Some people think the only way to give is with money. But we have an opportunity to give in so many other ways:
Give a compliment, smile or kind word to a stranger. You'd be amazed how a simple "Hello" with a gentle smile could brighten someone's day.
Giving a listening ear to a friend or family member who may be going through some difficulty. I remember having a long and in depth conversation with a friend of mine in college.
He was upset about not getting into medical school. I listened to his concerns and tried earnestly to comfort him with words of encouragement. Unfortunately, he must have felt enormous pressure. Because several months after our conversation my friend committed suicide. He was such a great guy! I never knew he was under so much stress. It was very sad news to hear.
You can give of your time to support a cause. We all have talents and gifts that people may find invaluable.
#WHYiGIVE
A few weeks ago, Michael Chatman's tweet caught my attention. I follow Michael on Twitter. He is "1 of America's most listened to voices in philanthropy; a champion for cultivating generosity. @Forbes Contributor, Host of #WHYiGIVE and #GIVINGSHOW."
Michael's thought-provoking Tweet:
Let's go! For 6 years, I've hosted the most popular tweet chat on Twitter … it's called #whyigive Join us now & feel better!

— Michael Chatman (@michaelchatman) November 16, 2016
My Reply:
I believe in giving freely because you never know how one act of kindness can transform a life. It's worth it to me. #WHYiGIVE

— Kembala Evans (@Kembala) November 16, 2016
That's why I support many non-profit organizations to help make a positive difference in the lives of others.
Shawn's Story
Back in September, I met a couple and I found out their son was in my Junior Achievement class last year. In this blog post, I'll call him Shawn. Shawn was in fourth grade at the time.
Junior Achievement's curriculum for the fourth grade class is centered on entrepreneurship. And to make it more fun and inspiring, I shared real stories about young entrepreneurs. For example, I told a story about one who started at the tender age of six selling painted rocks.
Of course we talked about other successful entrepreneurs like Walt Disney, Steve Jobs and many others. But the lessons we learned on selling products, managing your expenses and making a profit really stuck. In fact, Shawn's parents told me how he painted rocks over the summer and sold them in the front yard. He made $16 profit in his first venture.
And that's not all. Shawn has decided to start his own lawn service. Before he starts it, Shawn is testing the equipment and doing market research. Then he plans to start his new business. In fact, he told his parents that he plans to be a successful entrepreneur.
I couldn't believe my ears. Wow!!!! It was so exciting to hear Shawn's story. He took everything we learned in class and put it into action. This is a nine or ten year old with some serious goals.
It makes me think back to Martin Luther King Jr.'s quote. I love helping to inspire future generations. Just hearing his parents share Shawn's story actually showed me how touching the lives of others enriches your own life too.
Today's #GivingTuesday, how will you spend yours? Enjoy!