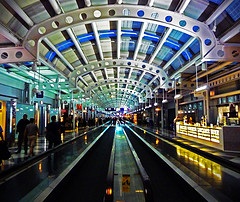 It's hard to believe this year's almost over. We're halfway through October and before you know it – Thanksgiving will be here. Have you booked your holiday travel plans yet?
Thanksgiving and Christmas are the busiest times of the year for travel and considering the laws of supply and demand planning ahead is a must.
Now is the perfect time to book your holiday travel. Especially given that holiday airline ticket prices are "expected to cost more this year." If you wait too late, you could pay more and have less flights to choose from.
Last year, booking my holiday travel plans felt like playing airfare roulette. Week after week, I watched closely as ticket prices fluctuated up and down in hopes of catching a deal. As weeks passed, I started noticing the flights were all heading in the same direction UP. When I realized the trend, I called my credit card rewards program (you have to love – no blackout dates) and booked two tickets using points. I reluctantly paid the higher prices for the other two tickets I needed.
Sure I booked over a month in advance, but I was so focused on finding a great deal that I missed out on the opportunity to buy better priced tickets earlier. Not to mention the cost of the two tickets I bought was close to the amount I paid for all four tickets (same time of year, destination etc.), just a few years earlier. 🙁
That being said, book your holiday travel plans early and save the frustration and money. Airfares are usually cheaper on Tuesdays, Wednesdays and Thursdays, so be sure to check fares during the week. And keep in mind that the holidays are peak season, so if you find a reasonable ticket, time is of the essence (hold or purchase, but avoid playing airfare roulette).
Holiday Travel Tips
For more information on how you can save on holiday travel, read Consumer Reports' article "Don't wait to book holiday travel"
Do you have any holiday travel tips to add???
Photo: pfala