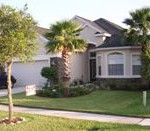 There are only nine days left to take advantage of the homebuyer tax credit  — it ends April 30, 2010. To qualify for this tax credit, the homebuyer must have a binding contract by April 30, 2010 and close on the home by June 30, 2010. 
Read the article on irs.gov, "Ten Important Facts about the Extended First-Time Homebuyer Credit" for more qualification requirements.
The homebuyer tax credit includes both first-time homebuyers and current homeowners. First-Time homebuyers may receive a tax credit up to $8,000. And existing homeowners may qualify for a tax credit up to $6,500.
If you qualify to receive the tax credit you may use it on your 2009 or 2010 tax return.
Click here to learn more about the homebuyer tax credit from the IRS. If you are a member of the military, be sure to review the "For Members of the Military" section to find out whether you qualify for an extension.