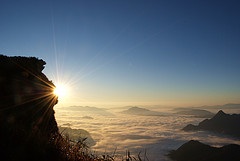 Last month I shared tips on How to Save Money on Emergency Airfares. And just recently we had to put those emergency airfare tips into action when I loss my dear Aunt Ginny, after a courageous six year battle with cancer. She was my motivation and a very special person to me. Given the significance of my loss, I decided to take a break from blogging.
When you live faraway from your family the distance can be challenging, especially during a time of loss. During times like this that require emergency travel, the only thing that seems to matter is getting there to support your family. I thought it would be useful for me to share my personal experience with you.
Here's How I Saved on Emergency Travel:
Shop around for last minute airfares and Ask the Airlines What They Can Do For You. It can be difficult to spend countless minutes scouring the Internet and calling airlines to get bereavement airline fares, but the time can really payoff.

A few days following my aunt's death, I started looking into airfares. The best prices I found online were around $426/per ticket (with stops) and the airlines quoted us bereavement fares from $414 – $465/per ticket.

The major benefits of bereavement airfares are that you can get a cheaper ticket and avoid change ticket fees (saving the $150 change fee and fare difference). Unfortunately, the tickets we found were only slightly cheaper than the others and our top concern was getting a reasonably priced ticket. After all, we were buying four tickets and our travel dates were solid.

Be Patient and Have Faith. After looking at the airfares over the weekend, I decided to hold off on buying our tickets. Not only did I wait — I leaned on my faith to deliver me all four tickets under $250 each. You know the type of faith like is shown in Hebrews 11:1:

"Now faith is the substance of things hoped for, the evidence of things not seen."

On the following Monday morning, I found the tickets we needed for exactly $215.40 each. They were the perfect price and the best non-stop flights- I could have asked for. God is good!

Use Airline Miles. Another option to consider is using your airline miles. I purchased another flight for a family member using some of my airline miles. Due to the short notice, I had to pay an $85 fee, which was lowered to $35 when I told them the purpose of travel.
Use Discounts and Coupons for Car Rental. Whenever I need to rent a car, I find my Costco warehouse rental car benefits save me the most money. This time was no different. I rented a full size car for four days for just $50.17 total. For more discount ideas, read the 

Top 10 Ways to Save on Travel

.

Keep in mind that rental car rates fluctuate based on supply and demand. Always check your rental car rate before you travel, because the price could go down. That was our case and it saved us an additional $15, rebooking at the lower rate.

Negotiate Hotel Rates. Contact the local area hotel manager to negotiate a group rate for those who may be traveling in from out of town that require lodging. And get the negotiated discount rate in writing to provide family/friends with the hotel rate details. For tips on selecting a hotel, checkout TripAdvisor.com.
Be sure to share your emergency travel tips with other family and friends who may be traveling in from out of town, so that everyone can save money on emergency travel.
A time of bereavement can be difficult to handle, it's my hope that you find this post helpful during such a time.
Photo: Tom BKK