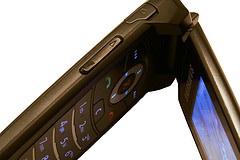 Have you ever experienced cell phone bill shock? You know the shock that comes over you when the Amount Due on your cell phone bill makes you feel like your eyeballs are going to pop out. 😯
If you've ever been there, you're not alone. As you can see in Mike Zapler's FCC proposes new rules to prevent cellphone 'bill shock' article:
A woman returning from Haiti after the earthquake received nearly $35,000 in text messaging charges. An Orange County, Calif., man was socked with a $3,300 bill after checking e-mail on his smart phone during a cruise celebrating his wife's recovery from breast cancer.
Even Apple co-founder Steve Wozniak experienced it last year, unwittingly ringing up $7,000 in roaming fees on his iPhone during a three-hour drive through Germany's countryside. "What are you talking about?!" Wozniak said when he learned of the charges from AT&T.
In fact, cell phone bill shock complaints have poured into the Federal Communications Commission (FCC). These FCC complaints showed:
67 percent of those complained about amounts of $100 or more.
20 percent had complaints of $1000 or more.
The largest complaint received during this time was for $68,505. (That's no typo – it was $68,505.)
Here's what you can do to Avoid Cell Phone Bill Shock:
Choose the Cell Phone Plan that Meets Your Needs. Use your typical cell phone usage to determine the best plan for you. A few questions for you to consider:

How many minutes will you need?
What time of day will you make your calls (evenings, weekends)?
Do you text? If so, how often?
Is a data plan necessary?

Know How Your Plan Works. It's important to understand how your cell phone plan works (number of minutes included, text, data, roaming charges). For example, what time of the day do you have unlimited minutes? Does your plan include free mobile-to-mobile minutes?
Monitor Your Usage & Setup Alerts – Actively monitor your cell phone usage. Knowing when your bill cycle starts and ends is helpful in making sure you do not go over your minutes. Many providers provide access to view your mobile usage online or using shortcuts on your phone. You may be able to setup email/text/voice alert notifications – be sure to check with your carrier.

Tip – If you have Sprint and expect to go over your minutes in a given month, contact customer service before the end of your billing cycle to purchase additional minutes at a much lower price (100 minutes increments for $5/each – a savings of $40 for 100 minutes). My friend Val shared this tip with me. Thanks Val! Please note you must call them before your billing cycle ends to have the extra minutes applied during the current billing cycle.

Talk With Customer Service – If you have an unexpected emergency that requires you to use more minutes in a given month, contact your carrier's customer service department to discuss your options. Depending on how much you've gone over, they may be able to waive your overage charges as a one-time courtesy.

If your phone usage needs change and you want to avoid paying the extremely high overage minute charges (normally from .35 to .45 a minute), contact customer service for assistance.  Many carriers (e.g. AT&T and Verizon) have the ability to upgrade and backdate your calling plan (during your billing cycle) to help you save money on high overage charges.

Consider Your Alternatives Unlimited Plans or Prepaid/Pay-As-You-Go Phones – Depending on your calling needs these may be better options for you to manage your cell phone charges.
Understand How Roaming Charges Work. Roaming charges can really add up. It's best to understand when you incur roaming charges and how much they cost you. Most phones have the ability to show you when you're roaming.
International Calls and Other Wireless Services. If you are traveling out of the U.S. be sure to understand how your phone plan works internationally — before you use it. For example, what type of charges can you expect for making calls, sending text messages, checking emails, etc?
Do you have any other tips to avoid cell phone bill shock? What has worked for you?
Photo: C y r i l l i c u s