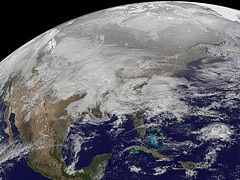 This winter has been one of the snowiest and coldest in quite sometime. Last month 49 of the 50 states had snow on the ground, with the only exception being the sunshine state of FLORIDA.
Now, meteorologists are expecting blizzard conditions (strong winds and heavy snowfall), dangerous ice storms, frigid temperatures and even tornados across different parts of the country.
According to Weather.com's article, Multi-Day Dangerous, Destructive Winter Storm:
"A multi-day, multi-region potentially historic and destructive winter storm will unleash its fury through Wednesday."

"When everything is said and done, the storm may very well impact a third of the population of the United States; approximately 100 million people."

"Its reach will be felt from the Southern Plains to the Ohio Valley to the coast of New England."
The National Weather Service has issued a warning of "potentially life-threatening" storm conditions in the Midwest. With a storm of this magnitude— it's best to be prepared.
Here are some tips to help you Prepare for a Winter Storm:
Stock up on Food – Be sure to stock up on food and water just in case you have to remain indoors for a few days. And non-perishable food and drinks are ideal, just in case you loose electricity. Some items to consider are water, nuts, fruit, tuna, crackers and any other food that does not require electricity or refrigeration.
Flashlights/Radio – Have extra batteries available.
Emergency Heating Alternatives – fireplace, wood stoves, space heaters. Allow for proper air ventilation.
Stay Inside – Depending on the weather and roadway conditions, it may be best for you to stay indoors. Stay up to date with your local weather reports to make sure that the driving conditions allow for safe travel before heading outdoors.
First-Aid Supplies – At home and in the car.
Dress for the Weather – This one may seem obvious, but you'd be surprised to see how many people risk it thinking they'll only be outside for a little while. Dress in layers (loose fit clothing is ideal), wear a hat to help retain your body heat, gloves (mittens if possible) and scarf to protect yourself against bitter cold temperatures. Be sure to cover your mouth and try to stay dry.
Prescription Medicines – Keep a supply of any prescription medications on hand.
Fill Up Your Car – This will help protect it against your fuel line freezing.
Snow Supplies – Use snow shovels, snow blowers, and sand/rock salt to clear driveways and sidewalks. Please use caution when clearing the snow and do not overexert yourself.
Some other helpful checklists and tips to prepare for a winter storm:
Stay warm and safe this winter!
Share any other tips you may have using comments.
Photo: NASA Goddard Photo and Video