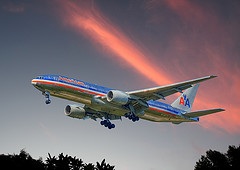 When it comes to airline travel, we always hear the words Plan Ahead. Well, it's hard to plan ahead for unexpected emergencies when the top concern is getting there. Traveling for emergencies like a death in the family or sick relative.
Last week on my way down to Miami to visit my aunt, I sat next to a wonderful young lady named Evelyn. Evelyn was on her way to Lima, Peru to visit her terminally ill grandmother. She told me about the sudden news about her grandmother's health and the urgent need to get there before she passed away.
After learning about her grandmother's health condition, Evelyn looked for low airfares online. However, given the short notice many of the tickets she found were $1,300 and up with awful travel dates. Since doctors had given her grandmother a very short timeframe to live, Evelyn had to get there quickly at a reasonable price.
Thankfully, Evelyn's husband came home with some great news from his boss on how she could save money on her airfare. His boss told him that she should call the airlines directly and explain the situation, so she could receive a discount.
Evelyn called American Airlines and told them that she was trying to go to Peru and visit her gravely ill grandmother who had very little time to live. American Airlines response to Evelyn's situation was tremendous. They offered her a discounted airfare of $900, which was much lower than any other fare available. In addition, given the urgency of the matter they rushed her to Peru.
Evelyn was very happy to receive the lower airfare and better travel dates. When she told me her story I just had to share it with you.
Many airlines offer travelers discounted rates for bereavement or emergencies. If you have an emergency:
Check for low price last-minute travel deals online.
Call the airline directly to see what type of discounts they offer for bereavement or emergency travel.
Taking these steps will lessen the financial burden of last-minute travel reservations.
Thanks Evelyn for sharing your story with me! I hope you have a safe trip back and enjoyed the time you spent with your grandmother.
Photo: lrargerich