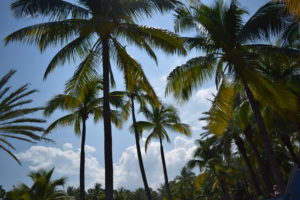 Have you booked your summer travel yet? No worries, you still have time to save. Besides the first day of summer is on June 20th.
Right now, airfare is real cheap. It's actually the cheapest we've seen in seven years. So now is the time to get away without breaking the bank.
Here are some easy ways to save on summer travel:
Book online – It's cheaper. You'll find the best rates and travel fares online. If you're lucky you may even find a promotion code or special to bring down the rate or give you some travel perks (free parking, early check in).
Check out travel websites – TripAdvisor.com is one of my favorite travel websites. I love reading the hotel reviews! Some of them will crack you up (like the one I read about Mickey Mouse being in the air vent). And this site lets you compare hotel rates across multiple websites at the click of a mouse.
There are a number of travel websites like Kayak, Orbitz, Expedia, Priceline and others to get some travel deals (keep reading and you'll find a list of the best travel sites).
Get on the mailing list – Don't you love it when you hear about specials before they are gone! Sign up for your favorite hotels, airlines and rental car companies' promotion emails to be the first to find out. This is a great way to save with special deals.
I've found some of my best travel deals tucked away in my email. This is an easy way to get promotions on airline travel, hotel stay packages, discount codes and bonus points. Some sales are time sensitive. For example, they could send you a 24-hour special.
Take advantage of last minute travel deals – Want to get away this weekend? Being spontaneous could actually save you. Sometimes there are some real bargains out there for last minute travelers. Check the provider's website for any specials on last minute reservation.
I usually find better deals on my rental cars a few days before travel. So I end up canceling my original reservation and rebooking to save. Travel websites are great places to find last minute deals, steals and specials.
Don't Forget Your Discount – Students and seniors often receive travel discounts. Some employers and organizations (e.g. AAA, AARP, wholesale membership clubs) offer you lower prices on travel also. Your credit card company may give you travel discounts too. And the best place to find promotion codes is on the web.
Bundle up and Save – Travel packages may offer you more savings. For example, when you bundle up your hotel, airfare and rental car together. In some cases, you can bundle up hotel and amusement park tickets too. NOTE: Be sure to read the fine print and cancellation policy before you book.
I got an unbelievable deal at Busch Gardens one year. I booked our hotel and amusement park tickets together. We stayed at a Top 5 hotel in Tampa and received park admission to Busch Gardens and Adventure Island (2 adults, 2 children) throughout our stay for about $145/day total (taxes included).
Use Your Points and Frequent Flyer Miles– Don't let those points and miles expire. Use them for free stays, tickets and other freebies. You earned them, so use them.
My husband and I planned one of our best getaways using our hotel points and frequent flyer miles. We flew from Tampa, FL to Honolulu, HI on frequent flyer miles. We only paid the security fees on two tickets. And we stayed at the famous Hilton Hawaiian Village in an unbelievably luxurious suite for free using hotel points. We saved about $4,000 on this trip alone with points and miles.
Group Rates – If you're traveling with a group, ask about any special group discounts.
Some helpful articles to save on travel:
23 Best Travel Sites to Save You Money-Kiplinger
Top Travel Websites For Planning Your Next Adventure – Forbes
Best Discount Travel Sites – Travel Channel
Happy Travels to You!