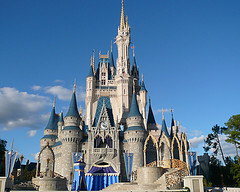 So you wanna see MICKEY MOUSE? Well, the magic's gonna cost you. Starting today (August 5, 2010) Disney's raising park (Disney World, Disneyland) ticket prices. Here are the secrets of a frugal traveler that show you How to Save Money on Your Disney Trip.
Plan ahead – The Top 10 Ways to Save on Travel shares some great ways to save on your typical travel costs like hotel, airfare and cars. When it comes to Disney, planning ahead helps you avoid park ticket price shock at the entry gate.
Vacation Package Deals – Look for vacation package deals (hotel, tickets, airfare) that offer you a combination of savings and compare them with purchasing everything separately to get the best deal. Package deals are not always cheaper than booking everything separately and may give you less flexibility with a cancellation.
Timeshare Package Deals – The last time we went to Disney we took advantage of a low priced and high value – Orlando timeshare vacation travel package. It included a 90-minute sales presentation and 2 free tickets to Disney World. And we stayed in a deeply discounted (probably about 60% off) luxurious condo. This is a great deal if you don't buy the timeshare.
Stay on Disney Property – I have never stayed at a Disney resort, because I always found better prices elsewhere. However, I must admit seeing the special monorail for resort visitors and beaming through the Polynesian resort made me think twice about staying offsite. I'll be looking for special deals and discount codes on Disney Resorts the next time.

Staying on a Disney property gives you the benefits of convenience and special extended park hours. Best of all, you save money on parking fees and transportation costs (free airport shuttle and other services) too.

Discount Ticket Offers – US Military/Veterans, American Automobile Association (AAA), Canadian Automobile Association (CAA) and Florida residents receive discount ticket offers. Your employer may offer discounted Disney tickets. If you're spending time in Orlando for a convention, check to see if they have any special pricing on Disney tickets.
Consider Purchasing an Annual Pass – If you plan on visiting Disney throughout the year, then an annual pass could save you money. Besides park admission, your annual pass also gives you discounts on food, merchandise, resorts and more.
Visit www.mousesavers.com – This website provides you with loads of discount offers, promotion codes and tips for getting the most value from your Disney vacation.
Do you have any other tips on How to Save Money on a Disney Trip?
Photo: mrkathika