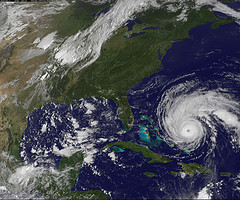 Hurricane Earl is threatening the East Coast. Hurricane warnings and watches have been posted for states on the east coast (North Carolina, New York, Massachusetts etc.). With Labor Day weekend coming up, the hurricane may be threatening your travel plans.
Here are a few tips if your travel plans are in jeopardy:
Stay up to date with the hurricane – The best way to determine if your travel plans are being threatened is to be aware of the projected path of the hurricane and expected travel conditions that could impact your trip.
Reschedule your vacation – If Hurricane Earl is headed to your destination, contact your travel provider (airline, hotel) to reschedule your vacation. Some airlines are waiving change fees, check your airline's website or call them directly for the most up to date information.
Cancel your reservation or get a refund – The best option is to cancel your reservation or get a refund – if you can. Rental cars are usually easier to cancel, provided you did not pay ahead. Hotels, airlines and others may prove to be more challenging. The worst they can say is No, but you can always ask. 🙂
A few informative Hurricane Earl articles:
 Are you in the path of Hurricane Earl?
Click here for helpful information to prepare for the hurricane. Be sure to tune into the news or weather channel to stay up to date on the latest developments with the hurricane.
I hope you have a Happy and Safe Labor Day weekend!
Photo: NASA Goddard Photo and Video