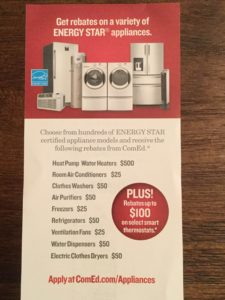 If you've ever had a washing machine breakdown, refrigerator stop working or any other major appliance go, then you know the feeling. It's no walk in the park. And more like a mad dash to find a good replacement at a reasonable price.
Depending on what you buy and where you get it, you may be leaving money on the table and not even know. Many utility companies offer rebates on new appliances that are energy efficient. You know the ones with the ENERGY STAR.
So you won't only be lowering your energy bill, you may even qualify for a special appliance rebate on top.
We replaced our washer and received a $50 rebate from ComEd (our electric company). Filing the rebate was quick and easy. Several weeks later, the check was in the mail. ComEd offers appliance rebates up to $500.
Some utility companies may even come and recycle your old fridge and give you some cash too. ComEd recycles old refrigerators and freezers. They will pick it up for free and give you $50.
Check with your energy company to see if they offer any appliance rebate programs. Your retailer may have information on these types of programs also. When we bought our new washer from Sears they had signs posted all over about ComEd's rebates.