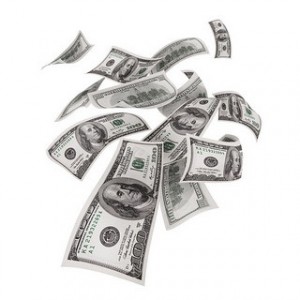 Who would have thought the Mega Millions lottery would reach a record-setting $640 million dollars? That's over half a billion dollars!
With that kind of loot, its no wonder that lottery ticket sales were coming in at $500,000 an hour. Although the odds of winning are slimmer than razor-thin at 1 in 176 million. That's why personal finance experts say playing the lottery is just throwing your money away.
As investor Warren Buffett says, "Rule No.1: Never lose money. Rule No.2: Never forget rule No.1."
Still playing despite these odds? I know many of you lottery players are already thinking about all the things you'd buy, payoff and do with $640 mega millions.
Here's 5 Things You Need to Know:
Office pools don't always have a fairy tale ending. The happy stories of people winning the lottery in an office pool are nice to hear. But sometimes people have to fight for their fair share of the winning ticket and payouts are ordered in the courtroom. Click here to read about someone the court ordered to share his winnings with coworkers. If you've already participated in an office pool, get a copy of all the tickets purchased.
Safeguard your ticket. Keep your ticket in a safe place and remember where you put it.😉 Be sure to write your name on your ticket. I read a disturbing story awhile back, where someone took a winning ticket into a convenience store and was told he did not win. In the end, the clerk took his million-dollar winning ticket and claimed the money for himself.
Don't tell everyone you won! I learned this lesson years back when I happened to get tickets to the Oprah Winfrey Show. Yes, I know it's not winning the lottery, but it was the golden ticket. When you tell people you won the lottery, it builds extreme excitement and they want what you have. Whether it's a ticket to a show or money, they'll expect you to share it with them. Perhaps that's why some lottery winners never reveal their identities. It can be done, click here to find out how.
Find professionals you trust to help you manage your fortune. It's always a good idea to seek professional advice in wealth management. A reputable attorney and financial advisor (preferably a Certified Financial Planner, CFP) can help you protect your money and make your money grow.
Build strong money management skills. Poor money management is one of the biggest reasons many lottery winners end up broke and bankrupt. Don't let that be you! Check out my book "Get Your Money Right" to learn how the rich, stay rich. For helpful money tips, read 3 Things to Learn from Athletes Gone Broke.
Photo: 401kcalculator.org