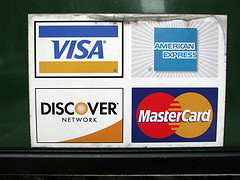 I'm a firm believer in maximizing the power of your plastic. I mean that's really the best thing about credit cards anyway. Right? The perks.
Several months ago, I found out about one I had been missing out on. It made me want to scream (just thinking about all of the money I could have been saving). Really!
When it comes to online shopping, who hasn't procrastinated about buying something special? And been forced to pay the price for faster shipping to get it there in time. I know I've been there and done that myself.
But now, depending on what I'm buying, I don't need to fret about paying the price for 2-day shipping anymore. In fact, shipping is fast and free. What a great combination!
I have an American Express card and apparently "eligible cardholders" have a complimentary membership to ShopRunner. You may be asking what is ShopRunner? It's not someone that runs to the shop for you.
ShopRunner gives you FREE two-day shipping when you shop online at certain retailers. That could save you anywhere from $10 – $30.
Everybody loves free shipping! And free two-day shipping is even better. So if you have an American Express card, visit ShopRunner today and find out if you can get a complimentary membership too.
Happy Saving!
Photo: The Truth About…