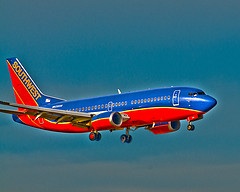 Have you ever missed your flight? It's not the best feeling. Especially when you've been running through the airport to try and make it. Then it goes from bad to worse when you actually miss it. Now you have to pay a change fee/higher fare just to get there.
Now, hot off the presses – sometime next year Southwest Airlines will start charging customers with restricted tickets (i.e. "Wanna Get Away") a no-show fee. To avoid a no-show fee, you'll need to cancel your reservation before departure.
This fee is expected to go into effect in 2013. And that's not the only fee change. In 2013, Southwest Airlines will also:
raise the oversized bag or third bag fee from $50 to $75
early check-in will go up from $10 to $12.50
The good news is that you're bags still fly free on Southwest Airlines next year.
Happy Travels to You!
Photo: BFS Man