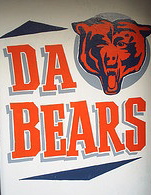 Are you ready for some football? I sure am. We're only a few days away from one of the biggest football rivalries – Chicago Bears vs. Green Bay Packers. It's the NFC Championship game and the winner gets a trip to the Super Bowl.
Who's your pick to win the NFC Championship? My pick is none other than 'Da Chicago Bears'. I'm rooting for the home team all the way!
My husband is going to the game. As for me, I'm not brave enough to watch it live in those beary cold temperatures! But the last time he went to the Bears NFC Championship game, they won and went to the Super Bowl. So, let's hope that tradition continues. 😀
Go BEARS!!! Stun the nation with one of the biggest upsets ever. And to my fellow UM Hurricanes (Greg Olsen and Devin Hester): I hope you play well and give those commentators something to talk about.
Let's get ready for some football, but don't get scammed for any tickets.
Here are a few tips to avoid ticket scams:
Buy from a reputable ticket broker – Are they licensed to sell tickets? Do they belong to the National Association of Ticket Brokers or Better Business Bureau?
Don't pay cash or wire funds– Paying with a credit card will give you a way to dispute the charge if something goes wrong.
Verify the tickets are legitimate – Check with the ticket office to confirm ticket details. And verify the seats using the stadium's seating chart.
Do you have any other tips on how to avoid ticket scams?
Photo: dougtone