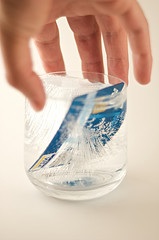 Question: My husband and I are trying to pay off our credit cards. He's been listening to Dave Ramsey and he thinks we need to close them after we pay them off. What do you think?
My Response: I'm glad to hear that you and your husband are paying off your credit card debt.
To answer your question—it depends. Credit cards aren't dangerous. But they can be if you don't use them wisely.
After all, credit = money. And credit cards are only tools. My friend calls them "the best 30-day interest free loan."
While credit cards can offer you great benefits. They make it easy for you to fall into the debt trap. And live beyond your means. That's why some people recommend you don't use credit cards. Period.
If you use credit cards responsibly, there's nothing wrong with having them. Just pay your balance in full every month. And limit your purchases to only what you can afford.
I personally use credit cards. They are convenient to use and provide useful tools/reports to track my spending. Plus, they offer some nice perks like travel insurance, warranty coverage and cashback.
I've gotten thousands of dollars in cashback without spending a penny in finance charges. Now, who wouldn't want that kind of return on things you're already buying?
You just have to be careful. No one wants to deal with the financial headaches.
Again, it's all about you and your husband. Do you have the discipline and self-control? You don't want fall back into the debt trap. If you're not there yet, then consider all of your options including shredding the cards, using cash only and limiting your credit card purchases.
Something else you may want to consider is that closing your credit cards could negatively impact your credit score. The length of your credit history is one of the credit scoring factors. Click here to learn more.
What do you think she should do? Close them or keep them.
Photo: paalia