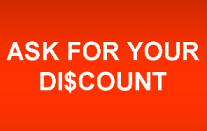 During my mom's last visit to Chicago she shared one of her secret money saving tips. As an avid saver myself, I'm use to scouring the internet for promotion and discount codes before buying anything online. Before shopping, I normally look for coupons online, through sales flyers and newspapers. However, my mom's method of saving had nothing to do with any of that stuff – she simply asks for a discount.
Sure, when I'm at the store I may be asked: "Would you like to save 10% today?"
Believe it or not – my immediate response is always, "No, thank you."
To think if I ever responded with a Yes, then I would be faced with one of the biggest sales pitches to apply for a new credit card. For me it's just not worth it, especially when my total is $3.21 and you're only going to save me a whopping 32 cents!
On the other hand, a discount without a new credit inquiry on my credit report and another credit card in my wallet sounds a lot more appealing.
My mom always asks for her senior citizen discount. You'd be surprised (at least I was) to see how many stores, restaurants and companies offer senior citizen (usually 55 and older) discounts. When we went shopping, I did not see any sign for a senior citizen discount. Next thing I knew my mother asked the sales clerk and instantly received a 10% discount.
We went to Texas de Brazil for lunch and I dared my mom to ask for her discount. I was curious to see if the restaurant actually had one. She was happy to do it, because she always asks for her senior citizen discount. To my surprise, even Texas de Brazil gave her 10% off. Although, we paid the bill it was nice to get an extra discount! 🙂
Do you qualify for any group discounts?
Here's a list of popular group discounts:
Seniors – Senior citizen discounts normally start at the age of 55 (some start at 50 and the age can vary – so check first). Seniors can receive discounts on food, clothing, memberships, travel, entertainment and much more.
Military – Members of the military receive many discounts on goods and services. These include items like travel, jewelry, insurance, food, clothing, electronics, entertainment and so much more.
Students – Taking your ID card with you can help you save money on food, travel, movies, electronics, transportation, retail, beauty salons, computer hardware/software, insurance and more.
Teachers– Teachers receive discounts on a lot more than your typical school supplies. Teachers save on books, homes, food, travel, electronics, computer hardware/software and more.
Motor Club – Being a member of a motor club (e.g. AAA , Allstate) gives you access to many travel and entertainment benefits (hotel discounts, discounted amusement park tickets, car rentals, etc. ). Check with your motor club to find out more about the discounts available to you.
Organizations– Are you a part of any organizations (e.g. AARP)? If so, you could receive special member discounts. Some organizations receive discounts on insurance, travel, shopping, wellness, food and a variety of other things depending on the type of organization.
Employer – Many employers offer a variety of discounts on products (e.g. cell phones, electronics) and services (e.g. tax preparation). Check with yours to find out about any additional savings programs. I used my employer's auto purchase plan to save thousands on my car. It happened to include family members too, so we used it to save money on my sister's car too.
Wholesale Club – Being a member of a wholesale club (Costco, Sam's, BJ's) can have more benefits than the savings you see strolling down the warehouse aisles. Thanks to a tip from a fellow Costco member, I used Costco's auto purchase plan to save money on my car. Check with your wholesale club to find out about any savings (e.g. travel, auto) programs.
Financial Institution – Your bank and/or credit union may provide you additional saving opportunities. We've saved on insurance for being a member of our credit union. Pay attention to inserts in your statements, special mailers or any ads on your financial institutions websites to find out about discount offers.
College Alumni – Although I've never personally used my college alumni discount. I have received mail solicitations that offer savings opportunities through group rates on insurance and other products/services. Check with your alma mater to see what type of discounts they have available for you.
Be sure to remember to ask for your discount. A simple question could help you keep more money in your pocket!
Ask for it whether or not you see a sign, because they may say Yes and you'll be happy you did.
Do you know of any other groups where you can save money as a member? If so, please share them using comments.