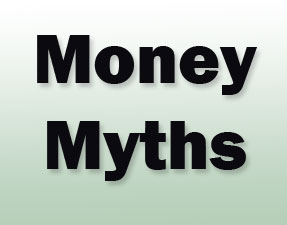 We all think about money in different ways. But there are some myths about money that need to be brought to the light. These myths can be misleading. And may even give you a false sense of security, or lead you to believe there's a quick fix for the problems in your life.
Now, let's explore them for what they are. Here's 5 Myths About Money Shattered:
Money Buys Happiness
This is probably one of the most popular myths about money. Does money really buy you happiness? Last year, a study conducted by Princeton University found that most Americans (85%) were happy, despite their incomes. Sure, money gives you more financial security and comfort. But it doesn't necessarily bring you happiness.
Rich People Only Buy the Most Luxurious and Expensive Things in Life
While it may be true that some rich people splurge on lavish and expensive things. And you may even see them featured on TV for purchasing ridiculously priced homes, cars, jewelry and more. But if you read The Millionaire Next Door you'd be surprised to learn that many millionaires are disciplined and thrifty spenders. Did you know that billionaire Warren Buffett chose to drive a reasonably priced Lincoln Town Car over more expensive options like a $380,000 Rolls-Royce Phantom?
If You Make Good Grades or Have a Higher Education – You Know How to Handle Money
This myth could not be further from the truth. Knowing how to manage money has nothing to do with the grades you made in school or a law degree. And just because you happen to be a doctor, teacher, or CPA does not mean you're any better managing your money than a bus driver. Being financially literate, disciplined and having self-control are more important factors.
I Don't Need to Know About Finances, Because My Husband Handles Everything
I remember when I shared a copy of my new personal finance book, Get Your Money Right: The 7 Keys to Unlocking a Better Financial Future, with a woman at the library.  After looking through my book, she told me that the content looked great. Then she said, "Well, I really don't need to know anything about money, because my husband handles everything." I could not believe my ears. What?
As a wife, I know the importance of understanding personal finance whether you're married or not. Besides, what would happen if an unexpected event like her husband divorced her or died happened? If she's clueless about managing money and does not know how to handle the household finances, it puts her in a challenging position during a difficult time.
However, if you're proactive about learning about money, you'll be in a better position to handle unexpected events. And having more financial understanding makes it easier for you to manage your finances. In her case, she could help her husband with the finances and have more insight into the household finances.
If I Win the Lottery, My Financial Worries are Over…
Some people believe that the only answer to money problems is more money. But a windfall of cash doesn't guarantee that your financial problems are solved. In fact, many lottery winners end up financially worse off (owing high debt, claiming bankruptcy) after winning millions. Because if the root cause of the problem is not addressed, it will only magnify with more money.
Final Thoughts
There are many myths out there about money. But if you're money smart, you'll be able to separate fact from fiction. I'm convinced the more you know, the more your money will grow.
Do you have any other myths about money you'd like to share?