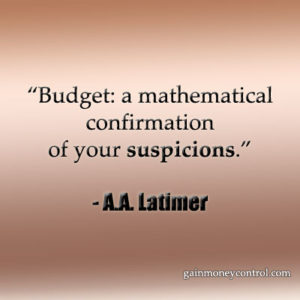 Yesterday I went shopping for some basketball shoes. After a few ankle twists, I thought they would be worth the investment. The first question that popped out of the sales associate's mouth-what's your budget?
I'm not a serious basketball player (actually far, far from it). I only play occasionally with the family. So I had set my budget at around $50. And I ended up buying a nice pair for $52.
That word budget got me to thinking about this blog post. Having a budget for a purchase is a good thing. And creating one for everything is even better.
Budget is a word that many people find suffocating, limiting or frustrating. The thought of creating and sticking to a budget can be scary. But it doesn't have to be that way.
On the flip side, having and sticking to a budget can give you a sense of relief in knowing your making the right decisions for your money.
Budgets can help you manage your money better. They are a great way to be a more disciplined spender. Budgeting your money may help you be more intentional in saving for emergencies, retirement, a new home, college and other important things.
In general, you can create a simple budget using a pen and paper. You need two separate columns to capture:
Monthly income
Monthly expenses
Monthly Income – What money do you have coming in every month? This includes any and all income you receive on a monthly basis like take-home pay, child support payments, or rental property and/or other investment income. [Read more…]