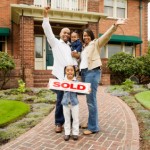 With a new home comes lots of excitement. After all, home ownership has been deemed part of the American Dream. If you're a recent homebuyer, congratulations on your new home! My financial message to new homeowners is Avoid the Debt Trap.
You may be asking yourself, what is a debt trap? Let's take a closer look. According to Dictionary.com, here are the formal definitions of each:
Debt – a liability or obligation to pay or render something
Trap – any device, stratagem, trick, or the like for catching a person unawares
How do you Avoid the Debt Trap? Beware of going into debt to decorate, spruce up or beautify your new home. These home improvements/enhancements can really add up and before you know it you could find yourself in $15,000+ debt.
I remember walking into our first new home and picturing all of the things I wanted to do. You know like painting, landscaping, ceiling fans and more. Sound familiar?
We moved from a one bedroom apartment into a 3 bedroom and 2 bath single family home. By the time we moved in and unpacked, there was still an echo in the house when we talked. You know the kind of echoes you hear when the place is nearly empty. If you looked around, you'd see plenty of space and a lot of bare walls to do plenty of imagining.
This was fine for us because my husband and I are frugal and we decided to decorate our home  — one room at a time. We agreed that we'd pay cash for anything that we needed to buy. [Read more…]