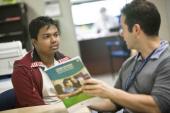 Make no mistake about it – What you don't know can hurt you! Every year millions of college students take out student loans to fund their college education. In fact, the average college graduate owes nearly $27,000 in student loan debt.
But do we really understand what it means to sign on the dotted line? Interest rates? Repayment plans? What if you default?
It can be confusing, when you have all of those loans to choose from. There are federal (Subsidized, Unsubsidized, Perkins) and private student loans. And many of us don't take the time to read everything.
Some borrowers are only 17 years old when they start taking out student loans. So what's top of mind is closing the tuition gap.
But you need to understand the terms of the loan before you borrow money. What will it cost(interest rate)? When do you have to start paying the loan back (repayment plan)?  How much will you owe?
This is important to know, especially with student loans.
You Can't Escape Student Loans [Read more…]