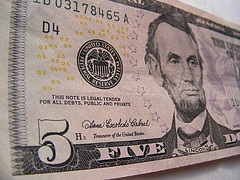 Yesterday my five-year old daughter went on her first shopping trip without us. In fact, Kiara and her classmates shopped without any parents. I gave her $5 and she came home with more than I would have expected. She bought slippers and a book for her sister, a picture frame for her dad, massaging slippers for me, and even got herself a new art set and markers. All of this for only five bucks.
How did she buy it all for just $5? Where did she go? Well, it was no shopping trip to the dollar store. That's for sure.
She actually shopped at school. Her school has Shopping Day every year. It's when the kindergarteners and first graders get a chance to put what they learned about money into action.
Shopping Day teaches students how to:
Use money to buy things. They have to be able to identify and count their money.
Think of others. I think it's great that they are using the holiday season to help them learn the importance of caring for others. For example, Kiara bought something for everyone in her family. 😀
Giving. Parents and teachers donate items (new or "very slightly used") for Shopping Day. And all of the cash proceeds are donated to those less fortunate.
Kiara absolutely loved shopping day and it showed on her face (all smiles). And she couldn't stop talking about it. She told me some of her friends were really great shoppers. Kiara also noticed that a few of them were a little selfish because as she put it "they only bought things for themselves."
I have to say I'm proud of Kiara. She learned a lot on Shopping Day. She was confident about using money, thoughtful and selected some really nice items (already has an eye for value 😉).
Kudos to her teacher Ms. Laine for doing such an awesome job putting this real-life experience together!!! Keep up the great work!
Shopping is one of the best opportunities to teach kids about money. And the lessons here go beyond your typical how to count money and receive change scenario. Do you have any other great ways to teach kids about money to share?
Photo: PublicPhoto.org