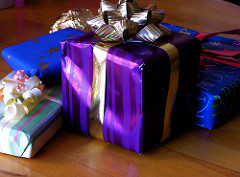 Birthday parties are a-changing! Back in November, my twelve-year-old got a birthday party invitation with the words "No Gifts" written across it. This was a first, but I figured it was because the invitation was sent out late.
Then she got another birthday party invitation, which read "No Gifts Please!" This invitation was sent out several weeks in advance. And it was pretty clear they didn't want any gifts. Period. The only real gift was your presence.
After this one, I decided to do some research online. I read articles and blog posts on the subject. What's a parent to do?
I quickly learned this is a new trend for children's birthday parties.
More and more parents are inviting kids to birthday parties and requesting no gifts. In fact, the etiquette gurus insist you should respect their wishes and forget the gift. In other words, when they say No Gifts it really means "No Gifts." [Read more…]