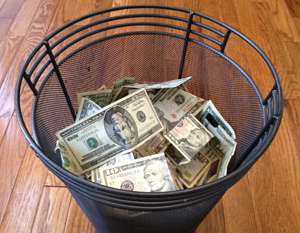 Caller id is one of the greatest inventions. Too bad it doesn't stop scammers in their tracks. They are still as clever as ever—out to get your hard earned money.
The other day my phone rang and the caller id showed my own telephone number on it. Weird? Yes. So for kicks, I decided to answer it. It was another scammer using what appeared to be my number to call. This time with a recorded phone call.
Those phone recordings are something else. Ever receive one from 321-328-1464? I did. It was a man supposedly named of "James Capstone." I listened to this call just for you.
In the recording he uses some threatening legal language. To the tune of "U.S. Treasury", "enforcement action", "judge" and "grand jury." He also warns you not to ignore this call or it will be an "offense." Then for those Jerry Maguire movie fans, he throws in "help us to help you" hoping to get you to call the number.
Don't believe the hype!!! If you are going to receive any type of notice like this regarding taxes, the U.S. treasury or any other government agency you'll receive a written notification about it. You won't have someone on the phone forcing you to pay now using your a debit card, money order or wire transfer to avoid jail time. [Read more…]