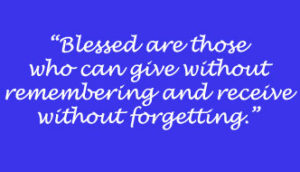 Many years ago I visited the King Memorial in Atlanta, GA. It wasn't my first time, but something stood out to me like never before. After watching a short movie, a black screen flashed up with these words blazing in white:
"Life's most persistent and urgent question is, What are you doing for others?"
– Martin Luther King, Jr.
That quote has made an imprint on my life forever.
It spoke volumes to me. Perhaps it was because of the significance of Martin Luther King Jr. life journey. After all, he fought for equality and made the ultimate sacrifice of giving his life for a cause greater than his own.
Those words made me reflect on my own life. And while I've always had an innate ability and desire to help others, I realized it really isn't about me—it's all about OTHERS.
The truth is you enrich your own life when you help others. Let me explain.
As Winston Churchill once said, "We make a living by what we get, but we make a life by what we give."
Some people think the only way to give is with money. But we have an opportunity to give in so many other ways: [Read more…]