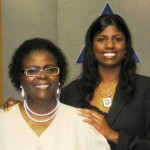 It's been awhile since my last blog post. Last week, my family and I traveled to Jacksonville, FL to celebrate my mother's (Susan) retirement. She finally retired after nearly 43 years working for the US Navy, as a civil service employee, in the information technology department.
We had a great time celebrating this important milestone with family and friends. After all, it's rare to see someone retire from the same employer after more than 40 years of service.
As I reflected on her significant accomplishment, I came to realize that my mother taught me what I deem to be — the 7 Pillars of Success. As a parent, I have come to learn that we are our children's first teachers. You know what they say "actions speak louder than words." Well, I am happy to say that my mother was a wonderful teacher.
From my mother, I learned the 7 Pillars for Success:
Strong Work Ethic. My mother taught me to always do my best, no matter how small the task.
Be Professional. She exuded professionalism in her dress and demeanor.
Respect Others. She showed respect for those she interacted with on a daily basis, including her co-workers, the cleaning staff, security and anyone she came in contact with.
Be Dedicated. Although my mother had many opportunities to leave and work for the private sector, she chose to stay. Our lives take us down different paths, but we must choose to follow what we believe to be our best path.
Build Knowledge. She always welcomed any new challenges for the opportunities they presented to grow and obtain more knowledge. She views knowledge as the key to personal development.
Be Willing to Change. The ability to be flexible and open to change is vital for continued success.
Live the Entrepreneurial Spirit. She spent her free time pursuing business ventures to bring in extra income and serve the community. As a result of her determination and can do attitude, she is a successful fashion designer and continues to pursue other ventures.
"What lies behind us and what lies before us are small matters compared to what lies within us."
– Ralph Waldo Emerson
Special Note for Mom: Thank you for teaching me the true meaning of success. As this chapter in your life comes to a close, please take a moment to enjoy it. I know you are eager to start the next chapter and reach for your personal aspirations. I look forward to seeing your innermost dreams become a reality. 🙂