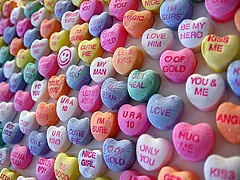 Valentine's Day is just around the corner. To give or not to give – that is the question.
Survey says – What do women want this Valentine's Day? Many women don't want or expect to receive anything on Valentine's Day. In fact, I've seen surveys ranging from 44% to 50% of women out there who don't want or expect anything.
Could it really be true? It depends. Let me explain.
What should you do or buy for Valentine's Day?
Perhaps you need to consider your mate's love language when trying to find the perfect gift. According to Gary Chapman's book "The 5 Love Languages" (click link to watch video for definitions) they are:
Words of Affirmation
Acts of Service
Receiving Gifts
Quality Time
Physical Touch
If your mate has been hinting at gift ideas or happens to fall into the "Receiving Gifts" love language, you definitely don't want to come home empty handed.
Then again, if your mate is not into Valentine's Day, you may be able to do something special to show your affection. For example, people who are more likely to be in the words of affirmation would appreciate a nice card or you could be more creative and write a poem or love letter.
Perhaps it's not what you say, but what you do that matters. Pleasantly surprise him or her with an act of service. Remember those to-do items that he or she has been asking (or nagging) you to do. Just do it. They may appreciate you making dinner, cleaning out the garage or any other item you've been putting of way too long.
Some partners may be happy just to get some quality time alone with you. No smartphone or other distractions, just the two of you. Quality time is a real treasure.
And for those physical touch love languages. No explanation needed, just get your cuddle on. 😀
Forget about the Guessing Game
Just ask your partner what he or she wants for Valentine's Day. Nothing beats direct communication! At least that's the secret couples who have been together a longtime often share with me.
No matter what you decide to do or buy this Valentine's, I hope you remember to share those three simple words. You know the ones we may take for granted – I love you!
Happy Valentine's Day to you & yours!!!
To love is nothing. To be loved is something. But to love and be loved, that's everything.

— T. Tolis
Photo: ButterflySha