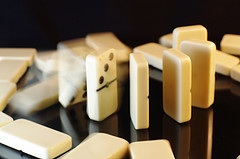 Gone are the days of cheap $1 per gallon gas. Do you even remember the time when a $20 bill could have easily filled your car's gas tank? I sure do, but it seems like such a distant memory these days.
Across the nation, we continue to see a rise in gas prices. According to AAA, the average gas price is $3.517 per gallon. And the price of oil is hovering around $105 a barrel. Many experts predict that we will continue to see gas prices go up.
The direct impact of high gas prices is easy to see, because it costs you more money at the pump. But for an economy in recovery mode, the domino effect of high gas prices is concerning.
What do I mean by the domino effect? Well, higher gas prices could raise the prices we pay for other goods and services too.
For example, it could push transportation costs (airlines raise airfares, taxis charge fuel surcharges, public transit) up and raise the prices on consumer products — to account for higher petroleum costs. In the end, these costs are passed on to consumers and we all pay more for goods (e.g. higher food prices) and services (e.g. shipping).
As for the economy, when consumers spend more money on gas they have less money to spend on other things.
Despite this reality, gas prices continue to soar. Yesterday the U.S. Department of Energy released a new Gasoline and Diesel Fuel Price Update, which showed that we are still paying more at the pump. In fact, gas prices have gone up a staggering 28% since this time last year. And half of this increase has occurred since the beginning of this year (Jan. 2011) alone.
Back in December 2010, a former Shell president (John Hofmeister) predicted gas prices could go up to $5 per gallon by 2012. Could he be right? Stop the presses, it's already been reported that a gas station in Orlando, Florida (near the airport) is actually charging $5.39 a gallon for regular gasoline. Watch the video below to see America's most expensive gas station.
How high will gas prices go? No one really knows, but it looks like Wall Street is predicting they will continue to rise. And if they continue to go up, the domino effect will impact consumers' wallets —as the prices we pay for food, transportation and other products increases.
What are your thoughts on gas prices? Have they effected the way you drive?
Other interesting articles:
Photo: BaylorBear78