Yesterday many people caught Mega Millions fever with a world record-setting jackpot of $640 million. Despite the razor-thin chances of winning, Americans stood in lines, joined office pools and spent an estimated $1.5 billion dollars to take a shot at millions.
One man spent $200 on a cab ride from FL to GA and bought $100 worth of Mega Millions lottery tickets. This is a tremendous investment given the odds of winning were only 1 in 176 million.
As a financial coach, what I know for sure is that the lottery is no way to build wealth. In fact, it's the easiest way to lose money because the odds are stacked up against you.
Playing the lottery is just like throwing your money away—for real!
Consider This…
Just think about how much you're wasting when you buy scratch off tickets, Mega Millions or any other lottery game. It's a hefty price to pay, when you're most likely to lose.
Think about all of the lottery tickets you've purchased over the years. What if you put the money you spent on losing tickets in the trash? And you put all of the money you won in your hand. Which would you have more of— trash or cash?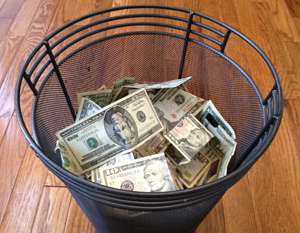 More trash? You're not alone. A study showed the average return on investment for lottery players who spent close to $500 a year was only $.67 or less than .2%.  Yes only 67 cents! How's that for funding your dreams?
Who Loses the Most Playing the Lottery?Sure there may be occasional players who jump in when the jackpot gets high. But the truth is that the poor spend more money on lottery tickets. According to PBS, a 2008 study by "The Journal of Risk and Uncertainty" revealed "households earning under $13,000 per year spend about 9 percent of their income on lottery tickets."
Sadly, the people who need money the most are wasting it in hopes of winning. It's the dream of what could happen that makes it so appealing. 
That's why the lottery is called the "poor person's tax."
In reality, you're more likely to stay poor if you don't stop playing the lottery and start making better financial decisions. After all, playing the lottery has proven to be a bad investment.
The Answer…
It doesn't matter what your financial position is. Becoming financially literate will help you make more informed financial decisions and build wealth.
The time is now! April is financial literacy month. Many financial institutions, schools, churches and other organizations will offer free personal finance classes. I encourage you to explore what's being offered in your area. Money Smart Week 2012 is April 21st  – 28th. Click here to find out about hundreds of free personal finance seminars and workshops.
If you're looking for a way to escape living paycheck to paycheck or to do more with the money you already have, check out my new book "Get Your Money Right: The 7 Keys to Unlocking a Better Financial Future." I wrote this book to help you improve your personal finances, so you can live better.
It breaks down proven financial principles in an easy to understand and inspiring way. You'll be motivated by the positive message and real-life stories. Click here for more information on "Get Your Money Right".
What are your thoughts on playing the lottery or Financial Literacy Month?