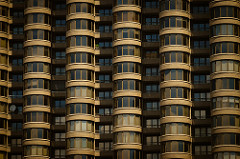 Two questions – Do you rent? Are you covered? If you rent and you're not covered, keep reading.
So you rent? There are more people renting today than in the past 50 years. In fact, a recent Pew survey shows "more U.S. households are headed by renters than at any point since at least 1965."
An interesting fact about renters – Only about 40% have renters insurance.
Since you don't have to be concerned about the rental property itself, you don't have to buy costly homeowners insurance. But you still have stuff you care about inside. Don't you?
You know the kind of stuff (furniture, electronics, jewelry, and other valuables) that can get stolen or damaged. That's where renters insurance comes in handy.
You may be asking, what's renters insurance? Renters insurance is a policy you can buy to protect your personal belongings inside a rental property. It covers your personal property against theft or damage (e.g. fire).
Some landlords or property managers may require you to purchase renter's insurance before signing a lease. More often, they don't.
I've never lived in an apartment complex that required me to buy renters insurance. I thought having it was worth the investment to protect my valuables. Renters insurance gave me more peace of mind and security in case something unexpected happened.
Besides when you've been through a Category 5 storm like Hurricane Andrew, it gives you a whole new perspective on the value of insurance. Before the storm, a friend of mine lived on the 19th floor in a nice, high-rise apartment building in downtown Miami. After the storm he found out someone broke into his apartment and stole all of his furniture. It was unbelievable!
Some people think they can't afford renters insurance. You might be surprised to learn how affordable renters insurance is. A typical policy could cost you $12 – $20 a month depending on:
What you have
Where you live
Type of coverage
When purchasing renters insurance:
Shop around
Understand how much coverage you need and how the policy works
Ask about discounts (multiple policy, special membership/group pricing)
Don't let a negative experience teach you the value of renters insurance. Protect yourself from the unexpected!
Check out these informative articles on renters insurance:
Photo: Zeldman