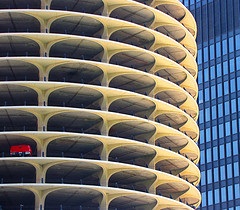 Tired of paying too much to park? Keep reading this and you'll find out how I saved over 50% parking in Chicago. And Chicago has the nation's highest parking metered rates. Metered parking downtown can cost as much as $6.50 an hour. Ouch.
It's ridiculous! With rates like this, you'd have to shell out 52 quarters to park for a few hours. That's an awful lot of change to be lugging around to pay a parking meter. This is probably causing people to get parking outrage. No wonder they gladly accept credit cards.
Parking is just too expensive.
That's why I try to avoid parking downtown. Nothing beats commuting by train into the city. But unfortunately, it's not always convenient.
The other day I decided to drive downtown. But I refused to pay those high parking rates. Thinking back to #2 in my "7 Surefire Tips to Save on Parking" post.
So I had to find a way to save on parking. That's when I came across this incredible website with unbelievable parking rates.
I must admit that I was a little hesitant at first because the rates were so low. After doing a little research and reading their reviews, I decided to give them a try.
And I'm glad I did. It's called ParkWhiz.com. And it's the real deal.
ParkWhiz gave me a cheaper parking rate and an upgrade (valet anyone?). Instead of paying $31 for valet parking, I only paid $14 with ParkWhiz. This saved me over 50% on parking!
So you know I had to share the good news with a friend of mine and she couldn't be happier. In fact, Kris has used them more than I have now. She told me ParkWhiz has saved her some serious cash on parking.
If you want to save on parking, give ParkWhiz.com a try and tell me how it goes for you.
Do You Have Any Other Ideas to Save Money on Parking?
Photo – o palsson