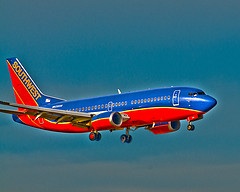 Winter's almost over, so many of us are busy booking our summer getaways, myself included. Last week, I came across a deal worth sharing with you that rarely comes around. Would you like to know how you could save 15 percent off of Southwest Airline's airfare?
Well, if you're a Visa Signature cardholder – today may be your lucky day. To see if you're a Visa Signature cardholder, simply look at the front of your card for the words "Visa Signature." And if you are, you may qualify for this special promotion offer to receive a 15 percent discount on your Southwest Airlines Wanna Get Away roundtrip airfare.
The best thing about this special offer is that the 15 percent applies to Southwest's lowest priced airfares (Wanna Get Away). Unlike other promotional offers that target higher priced tickets. Plus, I've never seen any Southwest Airlines promotion that did not require a hotel stay to save money. So this is a great deal indeed!!!
This is a limited time offer. If you qualify, you'll receive a one-time use promotion code. Note – Your roundtrip ticket must be purchased by April 30, 2011 and you must travel by June 1, 2011.  There are some blackout dates and other conditions too.
Click here for complete details (e.g. terms) on Visa Signature's 15 percent off your Southwest flight promotion.
Happy Travels!
Photo: BFS Man