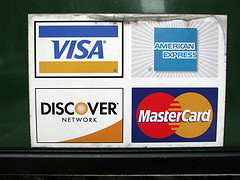 Have you heard about the new credit card swipe fees? They went into effect on Sunday, January 27th. Now retailers have the option of passing on credit card swipe fees to consumers. A swipe fee is the cost retailers pay every time you use your credit card.
This means that you could pay an additional 1.5% – 4% on your credit card transactions. The key word to remember here is could, because it's at the retailer's discretion to charge a swipe fee  (also known as "checkout fee").
While many retailers have opted not to charge the fee. Some retailers may charge you.
Retailers who charge swipe fees must disclose it upfront. And make it clear on the receipt.
This new law doesn't apply in all states. There are ten states with laws that prohibit retailers from charging the surcharge. These states include: California, Colorado, Connecticut, Florida, Kansas, Maine, Massachusetts, New York, Oklahoma and Texas. (What??? Illinois didn't make the list. :-()
How did we get here? Last summer there was a settlement for a class action suit against MasterCard and Visa for swipe fees. Click here to read the nitty gritty of the suit. As part of the settlement, retailers were given the option of recouping swipe fees from the customer.
So watch out for retailers who are charging you swipe fees. The best way to avoid them is to use your debit card or pay cash. For more information on this, visit knowyourcard.org.
What do you think of swipe fees? Will they change the way you shop?
Photo: The Truth About…