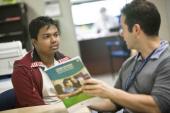 Make no mistake about it – What you don't know can hurt you! Every year millions of college students take out student loans to fund their college education. In fact, the average college graduate owes nearly $27,000 in student loan debt.
But do we really understand what it means to sign on the dotted line? Interest rates? Repayment plans? What if you default?
It can be confusing, when you have all of those loans to choose from. There are federal (Subsidized, Unsubsidized, Perkins) and private student loans. And many of us don't take the time to read everything.
Some borrowers are only 17 years old when they start taking out student loans. So what's top of mind is closing the tuition gap.
But you need to understand the terms of the loan before you borrow money. What will it cost(interest rate)? When do you have to start paying the loan back (repayment plan)?  How much will you owe?
This is important to know, especially with student loans.
You Can't Escape Student Loans
Some people think if they don't finish school, they don't have to pay their loans back. That's not true. You signed a promissory note that you would pay the money back according to specific terms.
So take that agreement seriously and read it. After all, it's legally binding.
You can't escape student loan debt. Not even if you file for bankruptcy.
If you can't pay your student loan as agreed, contact your loan provider. They may have other payment options available to assist you. You may qualify for deferment, forbearance or another repayment plan that lowers your monthly payment.
The worst thing that could happen to your student loan is default. A student loan default is when you fail to make payments on your loan as agreed in the terms. For example, some lenders may consider your loan in default when you don't make a payment for 240 days. Keep in mind that the period of time required to default on your loan varies.
Here are 5 Reasons to Avoid Student Loan Default
Ruin Your Credit – Student loans are reported to the credit reporting companies. If you don't pay on time, it will negatively impact your credit score.
Your Wages Could Be Garnished – Your employer may be required to take a portion of your paycheck for student loan repayment.
Tax Refund Offsets – The IRS can take any federal and state tax refunds until you've paid off your student loans.
Federal Benefits Reduced – The government may reduce the amount of federal benefits you receive (up to 15%) for student loans. For example, Social Security recipients may have a portion of their monthly benefits reduced for to repay student loans.
Get Sued – Lenders have the ability to sue you to collect for student loan debt owed. Remember the promissory note is a legally binding agreement.
There are more consequences for student loan default. According to Federal Student Aid:
The entire unpaid balance of your loan and any interest is immediately due and payable.
You lose eligibility for deferment, forbearance, and repayment plans.
You lose eligibility for additional federal student aid.
Your loan account is assigned to a collection agency.
The loan will be reported as delinquent to credit bureaus, damaging your credit rating. This will affect your ability to buy a car or house or to get a credit card.
Your federal and state taxes may be withheld through a tax offset. This means that the Internal Revenue Service can take your federal and state tax refund to collect any of your defaulted student loan debt.
Your student loan debt will increase because of the late fees, additional interest, court costs, collection fees, attorney's fees, and any other costs associated with the collection process.
Your employer (at the request of the federal government) can withhold money from your pay and send the money to the government. This process is called wage garnishment.
The loan holder can take legal action against you, and you may not be able to purchase or sell assets such as real estate.
Federal employees face the possibility of having 15% of their disposable pay offset by their employer toward repayment of their loan through Federal Salary Offset.
It will take years to reestablish your credit and recover from default.
To avoid student loan default, contact your lender to discuss your situation. Your lender may have payment options available to reduce your payments or temporarily defer payments.