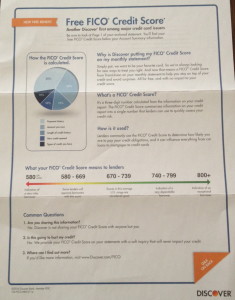 A month ago (on this very day), I wrote a blog post about new changes in the credit card industry. Last week it was reported that the Consumer Financial Protection Bureau (a.k.a. the nation's largest consumer protection organization for financial products) called on banks to give consumers their credit scores for free.
That's right FREE.
In my February 5th blog post, I told you about a new way some consumers are getting free credit scores (without any strings attached). Just in case you missed it, here's a link to that post – How to Get Your Free FICO Credit Score.
Without any nudging from the Consumer Financial Protection Bureau, some financial institutions were already leading the charge and giving their customers free access to their credit scores.
One of those financial institutions is Discover Financial, which also happens to be my very first credit card. So in my post, I wrote—"I sure hope Discover starts offering free FICO® Credit Scores to all of their cardholders (myself included).
"
And you'll never guess what I found on my credit card statement this month. You guessed it—My Free FICO Credit Score. Did the picture give it away?
Seeing is Believing
Wow! It was a nice surprise to see my credit score printed right on the front page of my credit card statement. You should have seen my face, I was grinning just like the emoticon above. For real! I called a few people to tell them about it. No joke!
Discover also included a nice and informative insert (see it in the picture) explaining:
Why they were putting your credit score on your credit card statement
What your credit score is
How your credit score is used
Now you can add this to your list of reasons to open your credit card statement every month.
Kudos to Discover Financial for making their credit card customers more informed about their credit!!! This is such a wonderful benefit.