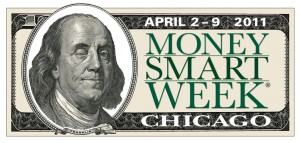 Every year the Federal Reserve Bank of Chicago offers free seminars and activities to promote personal financial literacy. This year Money Smart Week ® will be held from April 2nd – 9th.  And your child* can enter the Money Smart Kid Essay Contest for a chance to win a $5,000 scholarship.
The essay must be 300 words or less. And answer this year's Money Smart Kid question- You have been asked to give your class a short lesson on the importance of financial literacy. What would you say and why?
In order to enter your child must meet the entry guidelines below and submit the essay by February 25th, 2011 (postmarked by this date).
The Money Smart Kid Essay Contest entry guidelines for Chicago*:
Be a student in grades 5–8 in their school.
Have knowledge of money management skills (decision-making related to spending and saving, investing, use of credit, etc.) appropriate for their age and grade level.
Be able to "think on their feet"—responding to questions from business leaders and media.
Be articulate—able to speak in front of large groups and cameras, and respond well to questions.
Live in the Greater Chicagoland area.
Click Here to enter the Money Smart Kid Essay Contest (Chicago).
For information on Money Smart Kid Essay competitions in other locations – Visit http://www.chicagofed.org/webpages/education/msw/competition_resources.cfm
Happy Writing!