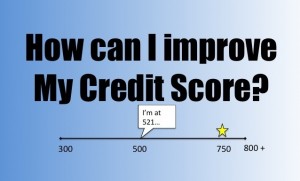 Nationally credit scores hit a new low with 25.5% of consumers with a poor credit score of 599 or less. Historically 15% of consumers fell into this category, read MSNBC's article Americans' credit scores at new lows for recent credit score trends.
Improving your credit score will help you receive credit approval (mortgage, loans, credit cards) and save money (lower interest rates, insurance costs, less deposits).
Here are 5 Steps to Improve Your Credit Score:
Check your credit report – The first step is to review your credit report to identify any inaccurate information (e.g. accounts, payment history, balances). If you find any errors on your credit report dispute them with the credit bureau.

Read my post Uncover the Truth: 5 Reasons to Check Your Credit Report to find out how to get a free copy of your credit report and for more tips on what to look for on your credit report.

Get your credit score – In order to fix your credit, you have to know where you stand today. If you recently applied for credit, perhaps the lender can provide you with your credit score for free. If not, there are a variety of websites that provide your credit score, but unlike your credit report it's not free. Beware of any website that promotes your credit score for free, because there is usually a cost.
Pay on time – Your payment history is the largest factor in determining your credit score, so paying your bills on time is very important. If you have any delinquent accounts, catch them up and start paying on time. To make bill paying easier, you can set up automatic payments. If you choose to use auto-pay be sure to monitor your billing statements for accuracy.

If you know you will have a problem paying a bill on time, then contact the creditor ahead of time to discuss the issue and work out another payment arrangement.

Minimize Debt – Paying down your credit card debt helps you improve your credit utilization. Your credit utilization is determined by the amount of credit you have available compared to the outstanding balance you have on the account. For example, if you have a credit limit of $1,000 and a balance of $500, then your credit utilization is 50%. To improve your credit utilization avoid maxing out credit cards and pay down your balance.
Keep old accounts active and don't open new ones – It may be tempting to close your account after you pay it off, but keeping your older accounts open can help your credit history. New accounts and credit inquiries could negatively impact your credit score, so it's best to avoid opening any unnecessary accounts.
Do you have any other tips to Improve Your Credit Score?