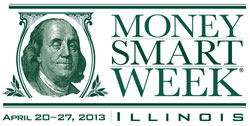 Calling all Chicagoland money savvy kids in grades 5th – 8th.  Now is your chance to be crowned the Money Smart Kid 2013 (Chicago's very own financial literacy ambassador). And that's not it. The Money Smart Kid will win a $5,000 scholarship from BMO Harris Bank.
The two runner-ups will receive $2,500 scholarships from Country Financial. And the other three finalists will get laptops from Woodforest National Bank. Last, but certainly not the least, the first 20 teachers who get their students (minimum of two) to enter the Money Smart Kid Contest will receive a $25 gift card from BMO Harris Bank.
This is an essay contest. All Money Smart Kid 2013 essay entries must be submitted by March 21, 2013. 
To participate in the Chicagoland Money Smart Kid Contest. Your kid must:
Be a student in grades 5-8 in their school.
Have knowledge of money management skills (decision-making related to spending and saving, investing, use of credit, etc.) appropriate for their age and grade level
Demonstrate how they practice good money management skills in their daily lives
Be able to "think on their feet"— responding to questions from business leaders and media
Be articulate—able to speak in front of large groups and cameras, and respond well to questions
Live in the Greater Chicagoland area
The 2013 Money Smart Kid Essay Question Is:
"What is the difference between an investment and an expense? What would be a good investment in your community and why? Please discuss who would benefit from this investment."
Click Here to apply for the contest in Chicagoland. To find out about other Money Smart Kid Contests outside of Chicago (e.g. Missouri), please visit moneysmartweek.org.
Will your child be the next winner? I sure hope so.