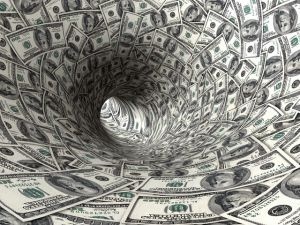 The other morning when I was running late to catch the train, I quickly stuck two dollars in the parking fare machine. After waiting a few seconds for my change, I decided to take a closer look at the machine. Then I found the words "No Change Given."
I couldn't believe I paid $2.00 for $1.25 parking. The machine owner gained an additional 60% in profit from me. As the consumer, I felt ripped off simply because I didn't see "No Change Given."
I thought you might be interested in the parking department's explanation, so I decided to give them a call. When I asked why they didn't give change, the finance department said, "You don't get your money back because the machine says "no change given." We keep it! The positive way to look at it is that at least you didn't have to spend $30 on a parking ticket."
No surprises here. It was exactly what I expected to hear. Nevermind the fact that you have to take your time reading the machine to find out "no change is given."
Then just last week when I was on vacation I noticed a large 8 ½" x 11" sign posted on a locker rental machine. What do you think it was for? It read in big bold print  "This machine does NOT give change." Now it was good to see this message plastered on the machine big enough for anyone to see before using it.
I'm sure they must have received some complaints to create such a special sign. The machine took $20 bills and you could rent a locker for as little as $6.  If you weren't paying attention and put in $20 for a $6 locker, you'd lose $14. That means you would have paid over 230% more for nothing!While I didn't use the locker I asked the staff about the sign. The woman warned me to use the correct amount of cash or a credit card to avoid losing any money. So it's safe to say if you see "No Change Given" it really means "No Change Given."
Who would have thought that better technology would result in this? I guess it's more profitable for businesses to keep the change. But for anyone who isn't paying attention to the words "No Change Given"—it's your loss.
So the next time you decide to put money into any machine be sure to read it first. Or better yet, just make sure you use exact change. Don't get ripped off!
Photo: RambergMediaImages